Our vision is a world where people value connections with each other and nature and human life contributes to the life of the planet. 
 
Rachel Carson EcoVillage (RCE) is a developing CoHousing community in western Pennsylvania not too far from Pittsburgh that will be built on the Chatham Eden Hall Campus in Richland Township.  We have a group of committed members and a design team working intensely to see the dream become a reality.   RCE will be the first Co Housing community in this area.  Our members are people with many interests, skills, and varied knowledge.  We share a love for the earth.  RCE is looking for more members and families who appreciate good food, music and nature and are looking to live in a community.  Consider joining us at our next introductory meeting to learn more or contact us if you would like to visit the site.


Celebrating Community @ RCE
 
Five Explorer members (4 quite new, one longer term) and  five Equity members gathered via Zoom (of course!) on July 16 for a GTKY gathering and spent an hour and a half of their Saturday morning together. The focus was to help newer members connect with each other and with longer term members other than their buddy in an informal way.

Our goals were …GTKY (get to know you), have fun, and ask and answer RCE questions.
We did all of that!!  Highlights were the GTKY ball toss (yep, on zoom), GTKY chats 1:1 in breakout rooms (lots of connections made here), and open Q&A discussion.

Attendees commented how much they enjoyed the gathering and how much they had learned about each other and about RCE.  Several individuals stated that the small group without the "work agenda" or time crunch of more formal meetings made asking questions much more comfortable and they were very appreciative of that.

Fun, connection and knowing more about each other and our community…those are very important to our RCE community.  Leaving a meeting happy…that is a bonus in many RCE meetings as it was in this one!
 
 
RCE in the News!
 
Take a look at this!  Rachel Carson EcoVillage was featured in an article in TribLive on July 20th.  It reports that we received the Board of Supervisors' approval for our Land Development Permit and gives a good short introduction to our community!
 
TribLive is the online publication of the Tribune Review newspaper, which has a large Western Pennsylvania circulation.  
 
We were also featured on WESA's Morning Edition on Friday, July 29th and couldn't be more excited about the word getting out! 
 


Welcome to our newest RCE Members
 
Tim & Louise H. from New Jersey, Shelly C. from New York and Kelly L. from Georgia. We look forward to seeing you on zoom and in person whenever you're able to visit Pittsburgh! Want to know more about some of other members? Check out the "Meet Some of Us" page on our website.
 


RCE T-Shirts are here! 
 
You may have been wondering how you can better spread the word about Rachel Carson Ecovillage….well MOPG has the answer!! Beautifully soft organic cotton natural color T-shirts with the RCE logo, including butterfly, can now be ordered for only $14!!
You may have seen them recently on some members, as they were worn for the June 11 RCTC celebration. Here you can see them modeled by Brenda and Becky at that event…So, how do you get your very own RCE T- shirt?

Contact member Dawn Tedrow dawngayle@comcast.net to let her know
Quantity..how many do you want?
Size(s)….Small, Medium, Large, Extra Large
Will you get it from her in person or need it to be mailed?
If you need it to be mailed to you, there will be an additional charge
for shipping, which Dawn will let you know.
• Write check payable to Rachel Carson Ecovillage in the amount required
for the number of shirts ordered ($14 each) plus shipping cost if it/they will
be mailed to you.
• Mail check to Rachel Carson Ecovillage P.O. Box 90222 – Pittsburgh, PA
15224. Include a note as to what the check is for.
Enjoy wearing your beautiful and comfortable Rachel Carson Ecovillage T-shirt knowing that without even saying a word you are telling people about our wonderful community! 
 

In Community

RCE Happy Hour
August 3rd at 7:30-8:30 PM
Bring your favorite beverage and get to know more about your fellow RCE members – Grace will be hosting this month's happy hour and can't wait to see you! 


Register for Happy Hour Here!
 
RCE Equity Information Meeting
August 13 at 12:30-1:30pm (EDT)
Join us at the next Equity Information Meeting.  We'll review our recent progress in the development process and the targets ahead of us.  We'll talk about the important role that Equity Members play in reaching those targets, with time for discussion…..and we will review the steps to become an equity member – the first steps to becoming a Pioneer, Junior Pioneer or Pathfinder in the Rachel Carson EcoVillage. All are welcome to attend this session! 
Register for the Equity Information Meeting here! 
 
RCE Design Review
August 13 at 1:30-3:00pm (EDT)
Come check out what the design team has been up to!
Register for the Design Review here!
 
RCE Introductory Meeting
August 27 from 10:30-12:00pm (EDT)
Come find out more about what RCE could offer you for living life more sustainably and in community with other like minded individual's.
Register for the Introductory Meeting here!
 
RCE Monthly Membership Meeting
August 27 from 12:30 – 2pm (EDT)
Our monthly meeting. Join us to see what progress has been made by all of the planning groups and with the organization in general.
Register for the Monthly Member Meeting here!
 
Strengthening the Community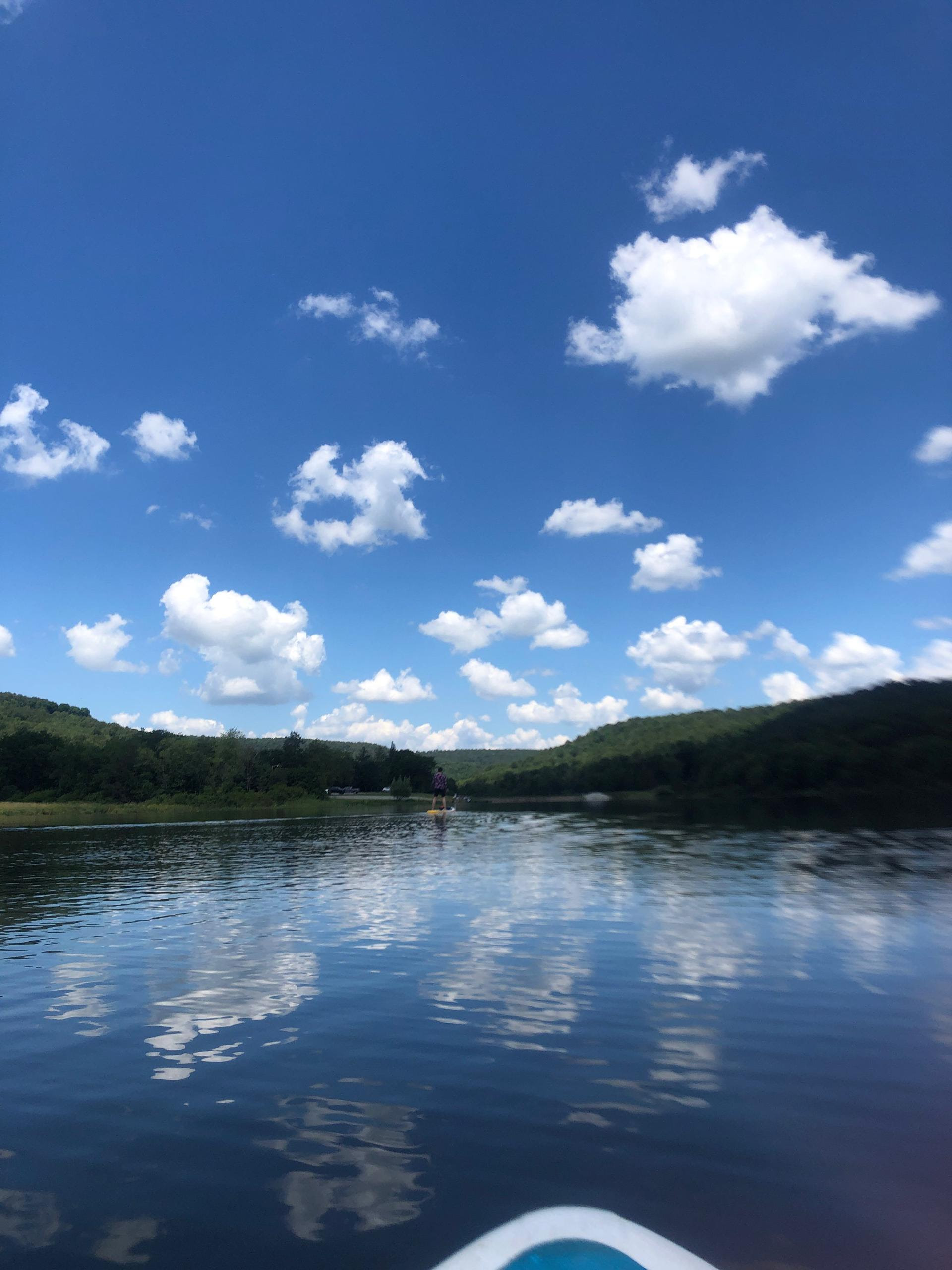 Let's enjoy beautiful Donegal Lake at an RCE Community "in person" social event. Bring your paddle board/kayak/fishing pole/swim suit or just bring your chair to sit under the tree shaded areas next to the lake.
  
Saturday, August 20, 2022 from 1 to 4 pm
Location: Lake Donegal #1 Boat ramp, Donegal Lake Road, Stahlstown, PA, Westmoreland County (less than one hour east of pittsburgh)
 
This is a rain or shine event!
 
Contact Person:  Brenda Freeman (412) 952-4331 or bkfreeman65@gmail.com
 
 
Good to Know!


Did you know Pittsburgh has a zero waste shop? The Refillery in Squirrel Hill is the city's first refillery—a store where you bring empty containers to fill up with products of your choice, with the goal of reducing single-use plastics and unnecessary packaging. From shampoo, lotions, sunscreen, and liquid dish soap, to zero waste products like natural deodorant and beeswax wraps, the Refillery strives to source items locally and with low environmental impact. They even weigh your empty containers before you fill them so you only pay for the product inside. Want to try going plastic free? The Refillery is a great place to start! 
 
Diversity and Inclusion at RCE


The Diversity, Equity and Inclusion Helping Group encourages diversity and inclusivity at RCE and works to create a welcoming community for all through outreach to diverse communities and through educating ourselves about our own identities and cultural attitudes. 
A recent discussion about the importance of being an ally…. a person that wants to fight for the equality of a marginalized group that they're not a part of…. led the group to videos that more fully explain the concept of allyship. 
5 Tips for being an Ally
Writer, actress and video blogger Franchesca Ramsey (youtube – channel chescaleigh) uses both humor and simple analogies to help understand what it means to be an ally. She'll get you laughing – but also help you think how you can progress in your journey to be an ally.
Want a more just world? Be an unlikely ally
A more equal world starts with you. Citing a formative moment from her own life, equity advocate Dwinita Mosby Tyler highlights why showing up and fighting for others who face injustices beyond your own lived experience leads to a fairer, more just future for all.
Click the video links to learn more about how to help create a more welcoming, just community.  
 


New! Junior Pioneer Equity Membership 
 
Rachel Carson EcoVillage has established a new equity membership type, Junior Pioneer to make it easier for members to progress to Pioneer. The advanced deposit required of Junior Pioneers is $22,500, half of the deposit required of Pioneers. Now, there are four equity membership types: Pathfinder, Junior Pioneer, Pioneer and Non-owner Resident.

We currently have 15 Pioneer member households and 6 Pathfinder member households. Each household counts as one member. We're planning to build 35 units.Three units will be available to users for when the project has no risk with completion so we need 11 more equity members.
Pioneer and Junior Pioneer advance deposits are paying for pre-construction costs such as survey, testing, design and engineering, public agency approvals, and legal and financing costs. Pioneer advance deposits have been sufficient to cover these costs throughout the project and are projected to be sufficient through August. Beginning in September, we will need more Pioneer or Junior Pioneer members to continue. Pioneer 
and Junior Pioneer advance deposits are at risk if the project does not come to fruition. Every new Pioneer or Junior Pioneer reduces that risk.

Pathfinder members deposit $15,000. The Pathfinder's advance deposit applies to the purchase of the household's unit.  It is not at risk.  During the development phase which is planned to be complete in the next few months, Pathfinder deposits may be used by the RCE LLC to cover a short-term cash flow shortage, but once construction starts, it will be applied in full to the Pathfinder's unit or will be refunded in full should the member household need to withdraw from the project or the project is terminated prior 
to unit selection. 
 
RCE established the Junior Pioneer membership level to provide a way to become a Pioneer without having to make the full $45,000 deposit. If a Pathfinder becomes a Junior Pioneer, their risk exposure is half as much as the Pioneers' risk exposure. The risk of the project not coming to fruition is also reduced as each Pathfinder becomes a Junior Pioneer or Pioneer. As a Pathfinder gains confidence that the risk is not as much as earlier, it is easy for Pathfinders to become Junior Pioneers or Pioneers.
 
A Non-Owner Resident has the same role and responsibilities as other Equity members, with the exception of the financial obligations. The Non-Owner Resident must have an agreement with the Owner of their shared unit regarding the terms of residency. Rachel Carson EcoVillage supports house sharing but does not seek to determine in any way the terms of such relationships. We had planned to begin construction this fall. The RCE LLC will need a construction loan before construction can begin. We are anticipating that the banks will require a downpayment of 20-25% of the value of our units. Pioneers and Junior Pioneers are already members of the RCE LLC. The Pioneer and Junior Pioneer advance deposits will count as part of their down payments.

When Pathfinder members become Pioneer or Junior Pioneer members, they will become RCE LLC members. The LLC will own RCE housing units until purchased by members either with cash or through a mortgage. If a member needs a mortgage, they will only need a mortgage for the difference between the cost of their unit and what they've already invested (their advance deposit plus additional to reach 20-25% of the cost of their unit that the banks require for the construction loan). One motivator for becoming a Pioneer early is to get the unit you want. When it comes to unit selection, Pioneers will have first choice then Junior Pioneers and then Pathfinders. Within each group, the order of the members in the queue is the order in 
which they joined that group.